Although Edinburgh is fairly small in size for a capital city, there are still a lot of great options for travelling around the city.  
By having a good understanding of all the available transport options you'll be able to get the most out of your trip to Edinburgh, plus you'll be able to visit some of the more hidden, lesser frequented areas and not just the city centre! 
As a long-standing boutique hotel in Edinburgh, Black Ivy knows all the best tricks and tips for getting around Edinburgh, so browse through the options listed below and plan your Edinburgh travel itinerary accordingly! For additional information on what to do in Edinburgh, check out our blog on the topic! 
What transport options are available for travelling around Edinburgh?
Unlike most capital cities, Edinburgh does not have an underground or metro option, and in all honesty, it doesn't really need one!  
Edinburgh does, however, offer a wide range of alternative transport options that include: 
Trains

 

Trams 

 

City buses 

 

Hop on-hop off tour buses 

 

And, of course, your own two feet!

 
We've looked at all the available transport options below and given you the best travel advice for getting around Scotland's most visited city! 
Edinburgh buses 
Edinburgh buses can be slightly confusing, especially as a tourist or first-time visitor to the city. They're big, there's a lot of them, and they're everywhere.  
However, they aren't actually too hard to navigate and through apps such as Google Maps and Edinburgh's bus and tram app, you can easily find the bus and stop that you need to get to where you want to go! 
The app also allows you to buy bus tickets ahead of time so that you're prepared for when the bus comes. If you want a convenient online option for checking bus time tables and routes, try Lothian Buses.  
If, however, you prefer to go the old-fashioned route, you can still check bus timetables at the bus stop and buy a ticket when getting on. Simply ask the bus driver for: 
A single

 

A return

 

An all-day ticket

 
The best option for you will be based on where you are traveling and how often you plan to use the bus that day.  
Some of the best locations out of the city centre that are easily accessible by bus are: 
Stockbridge 

 

Bruntsfield & Morningside 

 

Leith

 

Portobello (and Portobello beach)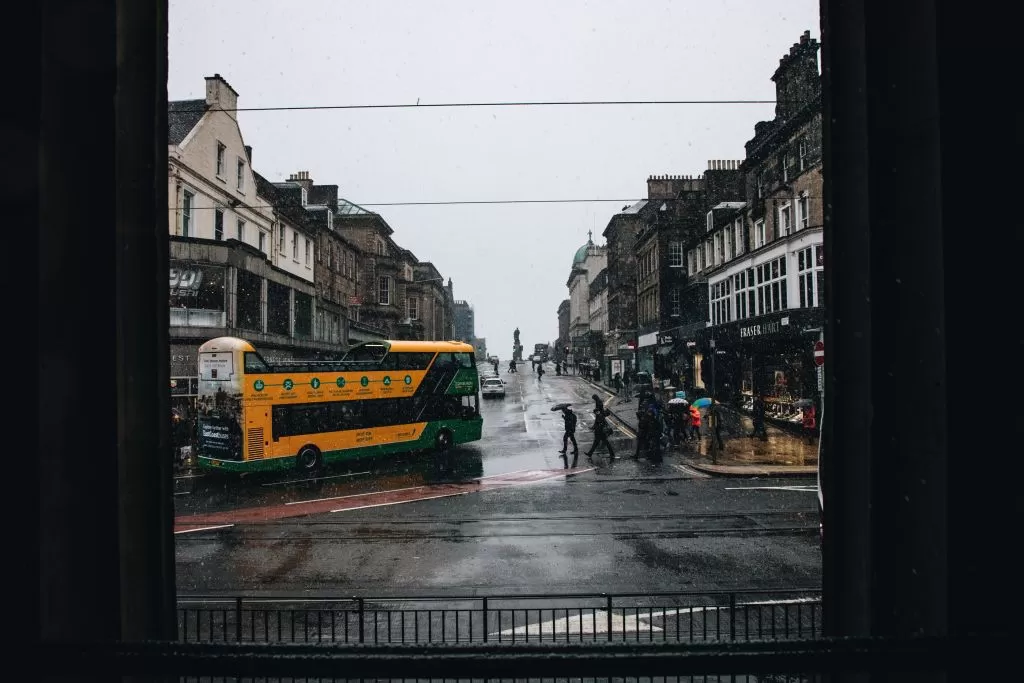 Edinburgh trains
When it comes to Edinburgh trains, there are two main stations that you should be aware of: 
Edinburgh Waverly – located in the very centre of Edinburgh

 

Haymarket station – the second largest station in Edinburgh, located in the district of Haymarket

 
The distance between the two is only around one mile, and the journey between the two stations by train takes 5 minutes. Both stations are well connected to other cities and areas around Scotland, so if you fancy a day trip to Glasgow, Stirling, Dundee or any other city or location within Scotland, Edinburgh Waverly will be the best place to go! 
With that being said, using trains to travel within Edinburgh itself is not really possible, unless you wish to venture out to outskirts of the city.  
You can buy tickets in advance and check the full train timetable for Scotland, including trains down to England, on the Scotrail website or on Trainline. 
Navigating the tram 
Edinburgh trams are a fairly new addition to the city's public transport amenities. The tramline officially opened in 2014, after more than 6 years in construction.  
The trams provide a convenient and easy-to-navigate travel route that connects the city centre to important locations, including Edinburgh airport, Ingleston Park & Ride. Murryfield Stadium and some other convenient locations that were previously poorly connected.  
The tram line is perfect for those travelling into Edinburgh from the central belt, however, the stops within the city themselves are limited. If you are visiting Edinburgh for a short break, you'll most likely only need to use the trams when travelling to and from the airport, or if you are visiting Murryfield Stadium for a Rugby match or concert.  
Be aware that passengers must buy their tram ticket before boarding, otherwise they face a real risk of receiving a fine. Tickets can be bought at every station before boarding or on the Edinburgh Trams website.  
Explore Edinburgh on foot!
Our final (and most recommended) suggestion for getting around Edinburgh is the old-fashioned way; by foot! 
Edinburgh is a small sized city and despite the great neighborhoods and attractions that can be found outside of the city centre, many of Edinburgh's best and most visited attractions are all located within the famous Old Town, which is best explored by foot.  
Within the Old Town, you'll find many of Edinburgh's most talked about attractions, including; Edinburgh Castle, The Royal Mile, Camera Obscura, Victoria Street, The Grassmarket and a wealth of great pubs, restaurants, shops and cafes. 
From the Old Town you can also easily stroll through the Gardens and arrive at Princes Street, Edinburgh's main high street. From there, other areas and attractions are within walking distance, such as Dean Village, Stockbridge and the Royal Botanical Gardens.  
Airport links
For those arriving in Edinburgh by plane, there are a couple of convenient options for getting into the city centre from Edinburgh airport.  
The cheapest option for travelling into the city from Edinburgh airport is the 24/7 Airlink transfer bus. The bus runs frequent services throughout the day, picking up and dropping off passengers at Princes Street. The ticket costs £4.50 per adult and the journey takes 30 minutes.  
The bus is especially suitable if you happen to have an early morning or late-night flight as it runs 24 hours a day, 7 days a week.  
The other option for getting into Edinburgh city centre from the airport is via tram. Trams have a direct line from the airport into Princes Street, with multiple stops along the way.  
The journey also takes around 30 minutes and will cost £6.50 for one adult single. 
Book accommodation in advance! 
Edinburgh is an extremely popular city for tourists, with over 3 million people visiting the city every year. In high season, which for Edinburgh is June, July and August, hotels and attractions get booked up fast and it's not uncommon for prices to rise.  
This is particularly true in the month of August when Edinburgh hosts the world-famous Fringe Festival, with people flocking from all over the globe to get a taste of Edinburgh's vibrant and exciting arts scene.  
With that in mind, it makes sense to book your Edinburgh accommodation in advance so you can be sure of a comfortable and well-located room for your stay. 
At Black Ivy's boutique hotel in Bruntsfield, we offer a wide selection of rooms to suit your budget and preference, whilst offering a friendly and accommodating service that will help make your stay in Edinburgh a memorable one.  
Our hotel has a full and varied food menu that includes breakfast, brunch and dinner, all at an affordable price. We also serve drinks in our in-house bar and on our lovely outdoor terrace, with service running until 1am every night of the week, meaning you'll be guaranteed a tasty beverage and a comfortable spot to relax in after a busy day of exploring Edinburgh! 
You can contact the Black Ivy team directly for more info, or conveniently book your room online today.